Skrill is an electronic money system. The business was founded in 2001. It allows people to make simple, secure, and quick money transfers and payments through the Internet — from international money transfers to shopping, gaming, trading, and betting.
Skrill Account Registration
Opening a Skrill account is free. All you need to create an account is a working phone number and e-mail address. You will need to pass the verification process and make a deposit with the amount of $5 as you are an ordinary user. If you are registering through Baxity.com, you shouldn't make a deposit for verification. And then your account will be up and running.
To ensure the link works correctly, turn off VPN or private mode on your browser, and also clear your cookies and cache before clicking on the link.
To create a new Skrill account, click here.
During registration, you'll be asked to fill in your personal information on the first form. We suggest you insert all your real data that are in your documents. Notice that you will be asked to confirm your address with the extract from your bank account or your paid utility bill, where it is stated your address.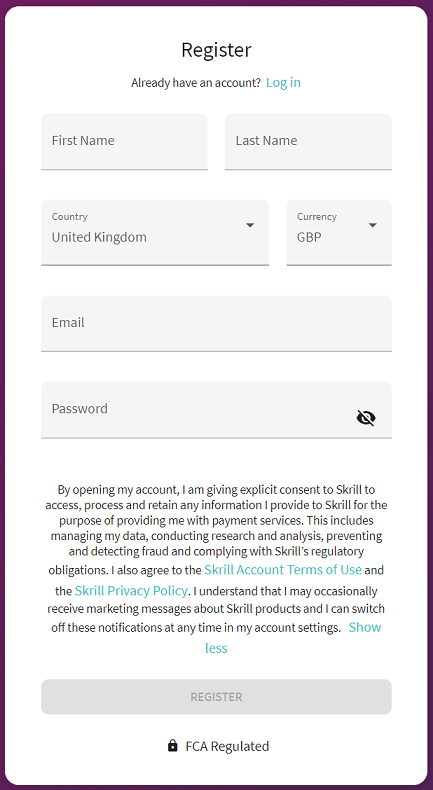 Enter your first name — the name you choose to identify with by law.
Enter your last name — your family name, as stated in the document that you will provide for verification.
Select your country.
Select the currency in which you'd like to send and receive money on Skrill. Choose the currency that you will really use for your deposit. Otherwise, you pay extra money for currency exchange (all about Skrill fees).
Please enter your correct e-mail address. Make sure it is a working e-mail address as you'll have to confirm it's yours. We suggest using the e-mail that you rarely utilize because this is safer.
Set a password. It must be at least eight characters long and contain at least 1 letter and 1 number or symbol.
Read Skrill's Account Terms of Use and the Skrill Privacy Policy before clicking Register.
4. After clicking Register, you'll be asked to fill in some information as regulations demand Skrill ask them. Boxes ticked with an asterisk are mandatory, so you have to complete them.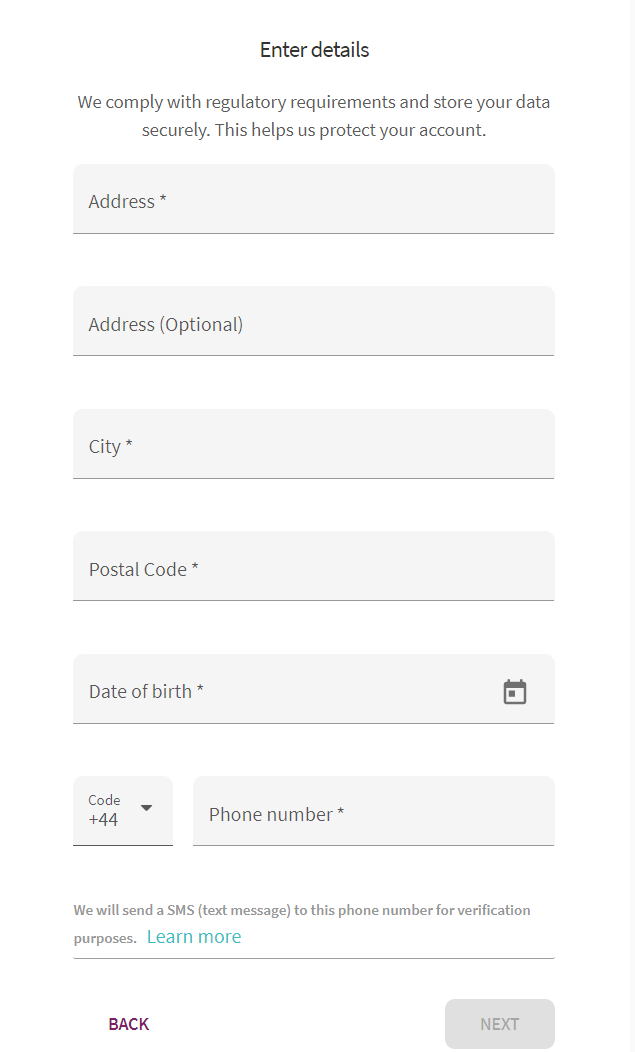 Use your real address as you'll need to have to confirm it during Skrill account verification.
The second address box is for those who have a second address, but it's optional.
Enter the city in which you reside.
Fill in your postal code in the next box.
Enter your date of birthday, month, and year.
Lastly, enter your phone number with your country's code on the left-hand side. Then click next.
5. After that, you'll be asked to secure your account by entering your current phone number to receive an SMS (text message) for verification purposes. Don't forget to set your country's code, then click continue.
6. A six-digit code will be sent to your phone number. After you input it, you click continue, and your Skrill account is all set.
7. Why should you register on Skrill with our link? Well, because you will enjoy more benefits like you shouldn't make a deposit of €5 for your signup for going through the process of verification.